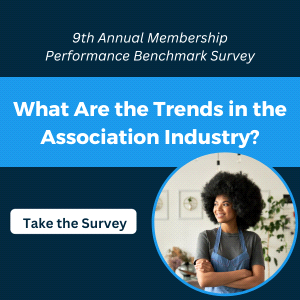 The 2024 Membership Performance Benchmark Survey is live and we'd love to hear from you! Your insights are crucial to finding association industry trends in membership engagement and retention levels, digital transformation, the adoption of Artificial Intelligence (AI), generational priorities, and more.
The survey takes just 7 minutes to complete, and all responses are confidential.
As a special thank you for participating, if you provide your email at the end of the survey, we will send you a complimentary advance copy of the survey findings in early 2024 and if you're one of the first 50 respondents, you'll receive a $10 Amazon gift card as a thank you for your time.
The survey closes on Wednesday, November 22, 2023. Make sure your experience and opinions are heard!