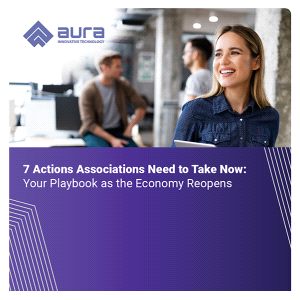 7 Actions Associations Need to Take Now

Your Playbook as the Economy Reopens

It is no big secret the Covid-19 pandemic and its after-effects still seem more like an episode of "The Twilight Zone" than reality. As the entire world experiences unimaginable and sweeping changes in our social and professional lives, the only way to get through the crisis is to take action. In fact, recent research by Oracle NetSuite shows about 1/3 of businesses are seeing an upward trajectory in cash flow while approximately another 50% are feeling negative impacts on their bottom line in the wake of the pandemic.

To keep up a forward momentum in times of adversity, associations are having to adapt to new ways of doing business and changing how they interact, communicate and deliver value to their members.

We've got your Playbook with 7 actionable steps outlining how to embrace change to better engage your members and communicate the value of dollars being spent by your association.

Fill out the form and get your free resource today!