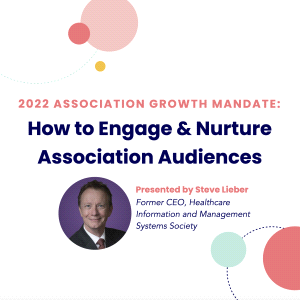 If your organization is only serving members, you're missing the opportunity to expand your impact by 10x. There is boundless, untapped growth potential in the audiences that anonymously visit your websites everyday.
Get all inclusive access to a 30 minute webinar presented by Steve Lieber, former CEO of HIMSS, and learn to use data to understand & serve your full audience.
Get insights on:
Transformational Associations - Understand the operational and strategic makeup of modern, digital-first associations.

HIMSS Case Study - Learn how HIMSS Grew an audience of 2M (and counting).

Digital Transformation Roadmap - Get Steve's top tips for transforming your organization from the inside out.
Fill out the form to the right to download this webinar today!