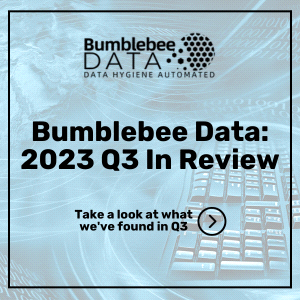 It's been a busy quarter for Bumblebee Data... 128,488 organization records cleaned in Q3 2023. To date, Bumblebee Data has cleaned 6,253,742 organization records...and counting!
Your data could be next! Don't let another quarter go by without cleaning your member data. Bee our next satisfied client and begin your data hygiene journey today.
Fill out the form to the right to download the infographic and take a look at what we've found in Q3.