REGISTER WHAT YOU'LL LEARN MEET YOUR TRAINER WHO SHOULD ATTEND
Today's rapidly changing environment is prompting associations to ask tech vendors for everything from a new AMS to a website redesign or virtual-event platform to support hybrid meetings.
These platforms can open big opportunities. But they come with big price tags—and big consequences for choosing the wrong right vendor.
You will, of course, ask the regular questions about requirements, flexibility and features. But what don't you know to ask could be even more important.
Register now for 10 Awkward Questions to Ask Your Tech Vendor.
In this one-hour webinar, technology expert Moira Edwards shares 10 tricky questions that make tech vendors get to the heart of what their platforms can and can't do for your association.
Make best-informed technology decisions. Distilled from years of feedback on why associations leave their systems and look for new ones, these questions help you avoid costly tech mistakes. You'll also have the chance to ask your own questions.
Reserve your space now to arm yourself with questions that quickly reveal potential system and software pitfalls, including:
Common issues associations experience with technology platforms
Where capabilities may fall short of your vision for customer service
How much flexibility there really is
And more
This webinar helps remove "unknowns" that can determine whether or not your vendor can offer the right solutions for your association.
Register now for 10 Awkward Questions to Ask Your Tech Vendor.
Moira Edwards has over 20 years' experience implementing large- and small-scale software solutions for nonprofits, government agencies and commercial organizations, nationally and internationally.
Prior to taking on the leadership role at Ellipsis Partners, she was an associate vice president for the Association of American Medical Colleges (AAMC) where she led a team of 65 staff in providing sophisticated online services to medical schools and students. Later, as head of business development for the American Nurses Association (ANA) she pioneered online learning communities and new continuing education programming using social media and eLearning technology.
As owner and President of Ellipsis Partners LLC, she focuses on impact of technology on organizational capacity and strategy. She volunteers within the association community and is a co-founder of Association Women Technology Champions (AWTC). She was the 2017 Chair of the ASAE Technology Council.
Hailing from Dublin, Ireland, she holds a BA in Business & Economics, an MS in Psychology, and is a Certified Association Executive (CAE).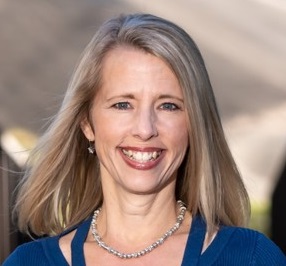 Marcie Peck is a senior consultant with Ellipsis Partners, with more than 20 years of diverse experience serving an array of corporate, government, and non-profit organizations. She is passionate about helping executive leaders better understand their constituencies and align strategic initiatives with organizational priorities.
Since 2012, Marcie has provided advisory services to Ellipsis Partners' clients across the U.S., focusing on using technology strategically to improve communications, drive engagement, and increase stakeholder value. A collaborative leader and creative problem solver, Marcie is adept at assessing organizational need, measuring the pulse of key audiences, developing targeted strategies, and leveraging the right channels to enhance an organization's brand and growth.
For organizations who seek to better understand their members, Marcie leads quantitative and qualitative research initiatives measuring constituent attitudes and behavior and turning those findings into strategic plans which increase constituent satisfaction and fuel measurable change.
Marcie has enjoyed significant success leading branding, public relations, and marketing programs for public and private companies as well as consulting for associations, nonprofits, and a government agency. Her experience spans industry-leading companies including KPMG LLP, USA Today, Allstate, Macy's, and ConAgra, as well as serving as a trusted advisor to start-ups and government agencies, including NASA.
She holds a B.S. degree in English and an M.A. in International Commerce and Policy.
This webinar is of value to associations and nonprofits. Attendees who will benefit most include:
Project Managers
Program Managers
IT Directors
Chief Operations Officers
CAE Credits: All live webinar attendees are eligible for 1 credit hour. Association TRENDS is a CAE Approved Provider. Our programs meet the requirements for fulfilling the professional development requirements to earn or maintain the Certified Association Executive credential. We will maintain records of your participation in accord with CAE policies. For more information about the CAE credential or Approved Provider program, please visit www.whatiscae.org
Have a question? Vist our FAQ page here.