REGISTER WHAT YOU'LL LEARN MEET YOUR TRAINER WHO SHOULD ATTEND
Virtual and IRL events are the most effective way to engage your community. But what's the most effective way to market and manage successful events?
Modern community marketing technologies can help you improve discoverability and streamline marketing. New marketing tactics and metrics empower associations to align events and conferences with topics and formats communities value most.
This upcoming TRENDS webinar shows you how to harness these new tactics and technologies to boost attendance and engagement with your own community. You can even receive a complimentary assessment of your own events webpage!
Register now for How to Boost Community Event Attendance and Engagement.
In this one-hour webinar, Localist's Shahab Kaviani shares marketing dos and don'ts helping today's most-respected associations boost community event attendance and engagement. Learn how to take your own results beyond what's possible with event registration systems and landing pages.
PLUS: Submit your own website for review and receive a complimentary Community Event Assessment report.
You can also ask your own questions during the Q&A portion of the webinar.
Reserve your space now for expert guidance on boosting attendance and engagement at virtual and IRL events and conferences, including how to:
Assess your website's Events section
Spot marketing gaps and opportunities for improving events' discoverability
Streamline community events management
Measure event engagement to identify topics and event formats of highest value to your members
You'll come away from this webinar with practical methods you can put into practice quickly—to accelerate breakthroughs.
Register now for How to Boost Community Event Attendance and Engagement.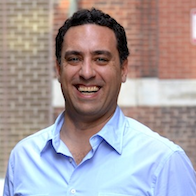 Shahab Kaviani currently serves as Head of Marketing and Community at Localist. He has 20 years of experience starting, scaling, and exiting companies. Shahab was most recently an Innovation Director at AARP Foundation helping to design innovations to drive engagement among older adults struggling with loneliness. Prior to that, Shahab was the co-founder of Breezio, an online community engagement platform, where he now serves as an adviser and board member. Prior to Breezio, Shahab was co-founder and CEO of CoFoundersLab. CoFoundersLab has become one of the largest online communities of entrepreneurs in the world with more than 450,000 members worldwide. Prior to CoFoundersLab, Shahab co-founded HyperOffice, where he led product and marketing; he operated the startup for over 7 years, serving more than 500,000 customers worldwide prior to its successful exit.

Shahab's passion is helping to build and foster the innovation economy. He was recently an Adjunct Professor at the University of Maryland teaching International Entrepreneurship & Innovation,
Shahab speaks around the world on the subjects of entrepreneurship, marketing, building startup teams, and fundraising. He earned his BA in Economics from University of Maryland, College Park.
This webinar is of value to associations and nonprofits. Attendees who will benefit most include:
Director of Membership/VP of Membership
Director of Global Conferences and Events
Director of Community (engagement)
Director of Marketing/VP of Marketing
Chief Marketing Officer
Director, Member Programs and Communities
Senior Vice President, Member experience
Director, Membership Development
Vice President, Content Marketing
Executive Vice President, Member Relations
Don't wait, register your entire team today!
CAE Credits: All live webinar attendees are eligible for 1 credit hour. Association TRENDS is a CAE Approved Provider. Our programs meet the requirements for fulfilling the professional development requirements to earn or maintain the Certified Association Executive credential. We will maintain records of your participation in accord with CAE policies. For more information about the CAE credential or Approved Provider program, please visit www.whatiscae.org
Have a question? Vist our FAQ page here.