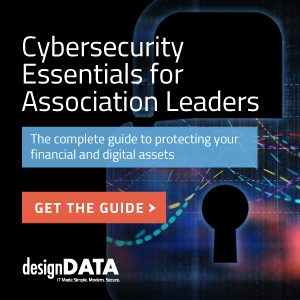 The complete guide to protecting your financial and digital assets
Technology has had a significant impact on the modern workplace, revolutionizing how businesses and organizations conduct their daily activities. Primarily, the world has seen a drastic increase in productivity, flexibility, and global communication.
However, technological advancement has also welcomed a new form of criminal activity: cybercrime. Cybercrime has become a lucrative industry; the single cybercriminal has evolved quickly into well-established and professional organizations.
According to a Proofpoint study, 78% of organizations in the United States experienced a ransomware attack in 2019. However, most were unprotected, with only 14% of small businesses having adequately prepared to defend themselves.
Victims of cybercrime suffer severe consequences, including;
Lost/compromised digital assets
Lost/compromised financial assets
Reputational damage
Our goal is to equip association leaders with the ability to lead rewarding cybersecurity-focused conversations. This is a crucial step towards ensuring that your essential data is secure.
That's why we've assembled a thorough guide on protecting your financial and digital assets. Our easy-to-read eBook reveals the most common risks and impactful changes available to protect your organization.
Fill out the form to the right to download your copy today!